SIM Card Files Recovery Software safely and securely recovers all deleted unreadable missing text messages and read saved phone number from your GSM mobile phones. The recovery utility restores all yours deleted text messages in minute time on Windows operating system. The software examines your smart card with the help of USB Card reader (any Phoenix type USB sim card reader or PC/SC Standards based sim card Reader) and recovers deleted information quickly and successfully.
The cell phone files retrieval software advance feature facilitates generating the report which allows viewing date and sending time of the text message. SIM card data recovery utility has been developed to securely recover all deleted text messages of most commonly used mobile phones.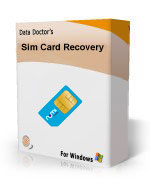 Software features:
SIM card recovery software is read only and non destructive utility.
Software easily operates on Windows 7, VISTA, XP, 2000, NT, ME, 98.
Software fetches the data that is accidentally erased.
Software examines the content stored in your SIM card like text message, numbers for the safe recovery.
Restore SMS messages that are not readable (due to deletion) in your mobile phone.
Minimum System Requirements
Any Pentium class or higher processor
128 MB of RAM
10 MB of Free disk space
Operating system required - Microsoft Windows operating system including Windows 7, Windows VISTA, Windows XP etc.