Remote monitoring software captures typed visited websites documents create hidden encrypted log text file utility record open windows drive location files folders name save login id password chat conversations tracks typed keystroke offensive site
Advance keylogger
Advance Keylogger monitors all areas of your PC and records each and every activity performed by any user in hidden mode. Software records pressed keystrokes, clipboard contents, voice chat conversations (Yahoo, Gmail, MSN messenger etc) and other launched or accessed applications on your PC when you are away. Visual surveillance tool also captures screen snapshots just like hidden camera to provide you complete picture of activities by any external users even if no key is pressed on your computer system.
Invisible key logger records and saves user activities in encrypted log files with facility to mail logs at specified email ID periodically or can be uploaded via FTP server settings to know how people are using computer in your absence without being physically there. By using this Windows key logger software, you can observe your spouse, friends, children, relatives or office employees online-offline activities that can be recorded in few mouse clicks.
Price: $49
close ×
Due to privacy nature and usability, we are no longer offering free trials of this software.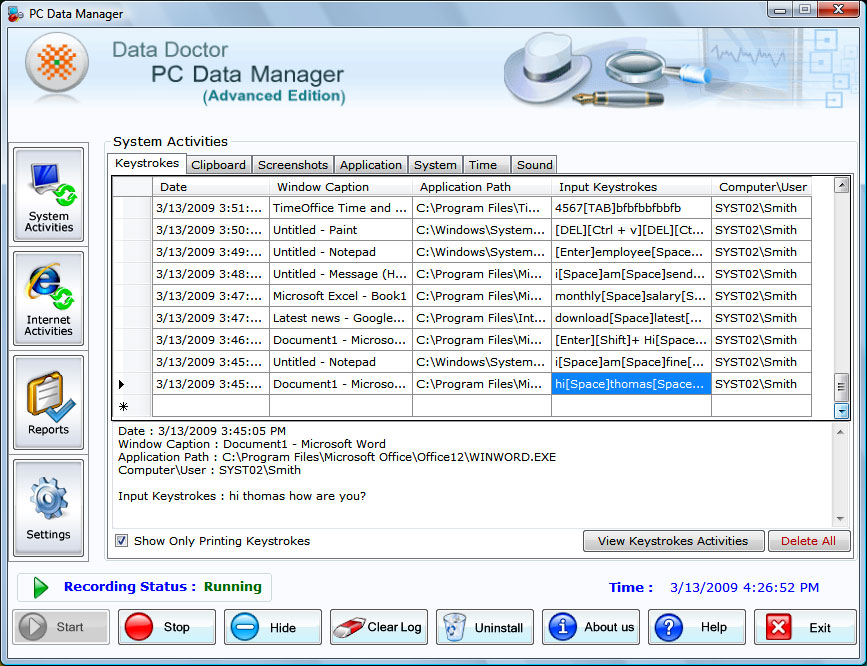 Monitoring Features
Invisibly captures everything typed in emails, chat messenger, address bar and other application on your PC.
Records clipboard (copy and paste) actions along with data which is copied from one application to another.
Record voice chat conversations for all major programs and notify if system sound settings are modified by anyone.
Captures screenshots of active window at set intervals with advance slideshow option to view user activities in sequential manner.
Track every program/application that was executed or accessed by computer users.
Keep track of all the changes made in system date and time by any user.
Additional Features
Automatically delivers log files at specified e-mail id and can also be uploaded by using FTP server settings.
Software starts monitoring PC by activating itself as windows start.
Software works completely in stealth mode and disappeared from Desktop, Program files, Startup menu, installation folders path.
Generate report of recorded logs in .txt and .html format as per required.
Hot key and Run command feature makes easy to unhide the software while running in stealth mode.
Password protected utility restrict external users to change or modify software configuration settings.
Do not slow down overall speed of your system when software running in hidden mode.
Keep backup of recorded activity files that can be viewed later.
Software is very easy to use and does not require any special technical skills to operate it.