PC to mobile bulk SMS software transmit different information such as job alerts, market news, new product launch information to worldwide mobile user tool broadcast text messages to multiple users at single time support all telecom service provider without having internet connection
Home ► Bulk SMS Mobile Messaging Software
Bulk SMS Mobile Messaging Software
Bulk SMS Mobile Messaging Software is the leading award winning SMS gateway tool used by business organization worldwide to send personalized or localized mass text messages from computer Desktop-Laptop PC to any mobile phones (Nokia, Sony Ericson, Motorola, LG, Samsung etc) in just one easy click.
Send global text (job alerts, promotional campaigns, inauguration invitations, occasional greetings, event notifications, recruitment announcements, contracting employees) messages.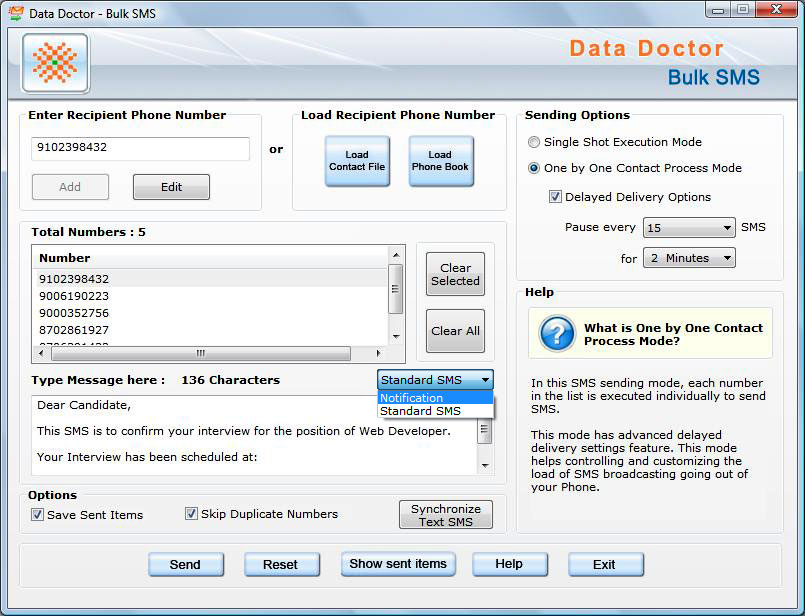 Software Features:
Easy to use bulk SMS utility sends any number of text messages from personal computer to other mobile cell phones.
You can send SMS (text messages) to any mobile network around the world in one single click.
Most effective and immediate way of keeping in touch with customers, employees, business partners, relatives and friends.
No internet connectivity is required to send bulk SMS.
Send text messages in any language provided with GUI interface.
Easily be operated by even non technical users.