Download internet explorer password revelation tool to recover lost windows application saved FTP client password software unhide hidden asterisks character password textbox, display Auto complete field, IE auto form account identity password
Home ► Internet Explorer Password Recovery and Unmask Tool
Internet Explorer Password Recovery and Unmask Tool
Internet Explorer Password Recovery and Unmask Tool recovers misplaced, forgotten, lost or deleted internet explorer saved password for email IDs, newsgroup accounts, dial up password, magazine subscriptions, web forms, shipping and billing address, online shopping account and much more. Software retrieves IE password right away no matter how complex and long they might be.
Award winning Password recovery software is capable to reveal instantly FTP Password, IE Auto complete saved passwords along with identity password with in second time. Easy and user friendly software interface uncovers or unhide all asterisk (******) character passwords in the easiest way.
Price: $45
close ×
Due to privacy nature and usability, we are no longer offering free trials of this software.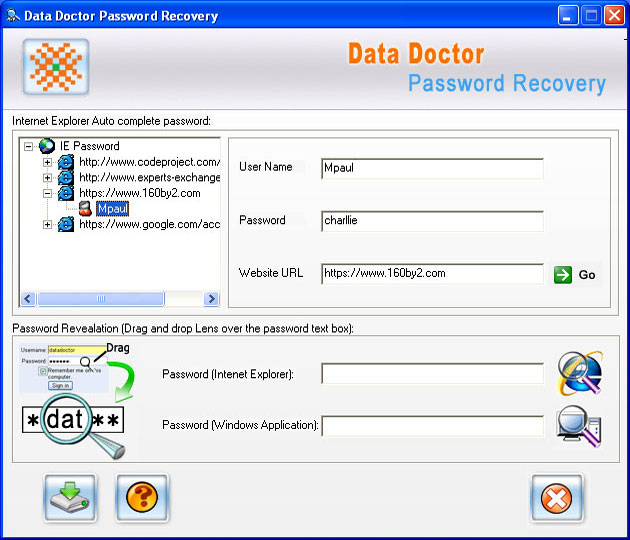 Software Features:
Retrieves IE browser saved email/news account, dial up passwords regardless of length and complexity.
Simplest utility unmask asterisk hidden characters password.
Facilitate to save recovered password list at users specified area.
Support all latest versions of internet explorer.
Cost effective password recovery software supports multilingual password recovery.
Easily run and operate on windows operating system such as VISTA, ME, 2000, 2003 server, NT, 98 and XP.