Office outlook email password recovery software reset lost forgotten outlook express multiple mail account password retrieval utility restore secret code of personal storage file (*.pst) restoration tool supports all outlook express version display server information
Home ► Outlook and Outlook Express Password Recovery Software
Outlook and Outlook Express Password Recovery Software
Outlook and Outlook Express Password Recovery Software is very easy to use password retrieval application that automatically recovers lost, misplaced or forgotten multiple emails and newsgroup account passwords configured on Microsoft Outlook Express and Office Outlook. The password recovery program shows the recovered password list instantly regardless of the password length and complexity.
Outlook password recovery utility presents itself as a handy tool enabling you to restore server information (Incoming Mail Server/Outgoing Mail Server account name and password) and server port number. Software displays complete list of lost usernames and passwords of office outlook and MS outlook express.
Price: $38
close ×
Due to privacy nature and usability, we are no longer offering free trials of this software.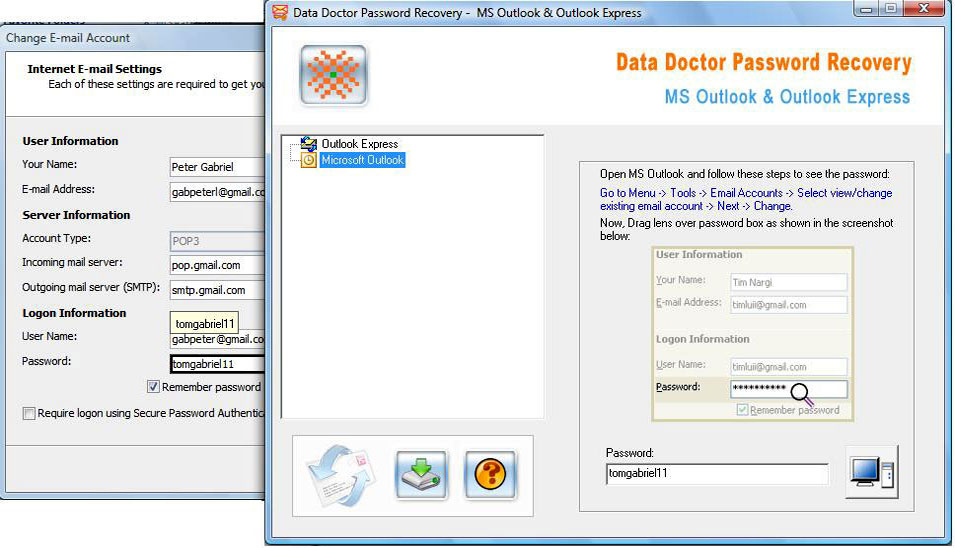 Software Features:
Easily recovers lost or forgotten saved passwords for email/newsgroup account.
Helpful utility support restoration of multilingual passwords in a simplest way.
Provide detailed information of incoming/outgoing mail server and server port number.
Allow to save above record in text file format for future reference.
Support all major versions of MS outlook and office outlook.
Non technical users can easily operate the password retrieval tool in easiest way.
Recovers identity password on Windows XP, ME, 98, 2000, 2003, NT and Vista operating system.