Pocket PC Forensic Tool
Pocket PC Forensic Tool provide quickest way together all complete detailed information including (files, operating system registry, database records and phone information) from windows based Pocket PC cell phone. Software is useful for users who are using Pocket PC mobile devices and need to extract information like (mobile manufacturer name, model number, serial number (IMEI), subscriber number) of the Smartphone PDA device. Similarly allows you to view phonebook contact numbers, appointment and task details with date and time.
Pocket PC software application support all PDA device and Pocket PC cell phone including Orange myS-7 smartphone, Orange SPV C500 smartphone, Orange SPV E200 smartphone, Palm Treo 700w, Pantech PH-S8000T smartphone, Qool Labs QDA Oh!, Samsung Blackjack, Samsung SCH-i730 Pocket PC phone, Samsung SGH-i300, Samsung SCH-i600, Sharp W-Zero3 PocketPC Phone, Siemens/AT&T Wireless SX56 PocketPC Phone Edition, Sierra Wireless Voq Phone, Texas Instruments WANDA reference design, T-Mobile MDA, UTStarcom PPC 6700 UTStarcom XV6600, Voxtel W740, Yakumo PDA omikron BT etc.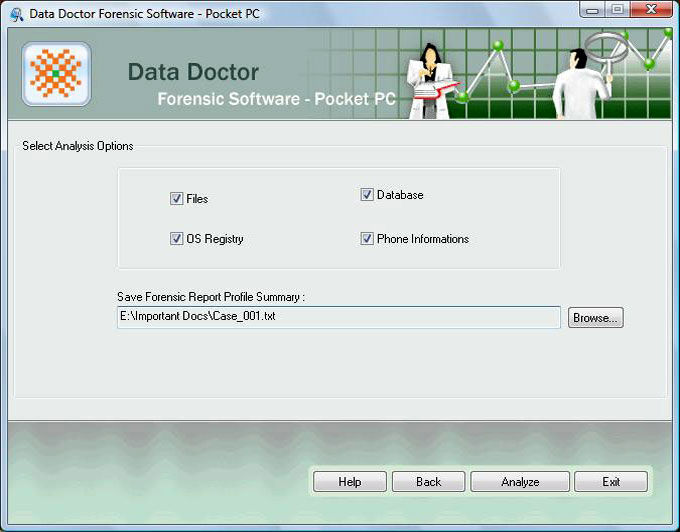 Software Features:
Affordable tool investigates windows pocket pc mobile phone for extracting files, database, OS registry records and phone information.
Provide general hardware details like mobile model number, manufacturer name, IMEI number, serial number etc.
Similarly shows software information including appointment and task details.
Provide graphical user interface that makes it simple to use the forensics tool.
Software is easy to use even for non technical user.
Support Windows 98, XP, ME, 2000, 2003, NT and Vista operating system.
Please remember Synchronizing mobile device with your PC is a faster, easier way to connect your desktop or tablet PC and your Windows Mobile powered device to transfer information, settings and files. Synchronization is handled with different applications for Windows Vista and Windows XP or earlier, so please checks which operating system your PC is running and choose the appropriate option.
If your PC is running Windows Vista, your synchronization settings will be managed through the Windows Mobile Device Center and if your PC is running Windows XP, or earlier, your synchronization settings will be managed through Microsoft ActiveSync.