Restore erased SIM memory data free version retrieval tool recover corrupted inbox outbox drafts sent items text messages software rescue unread read deleted SMS repair contact numbers address book directory retrieve missing cell phone memories information support GSM mobile network connection
Home ► Sim Card Files Recovery Software
Sim Card Files Recovery Software
SIM Card Files Recovery Software safely and securely recovers all deleted unreadable missing text messages and read saved phone number from your GSM mobile phones. The recovery utility restores all yours deleted text messages in minute time on Windows operating system. The software examines your smart card with the help of USB Card reader (any Phoenix type USB sim card reader or PC/SC Standards based sim card Reader) and recovers deleted information quickly and successfully.
The cell phone files retrieval software advance feature facilitates generating the report which allows viewing date and sending time of the text message. SIM card data recovery utility has been developed to securely recover all deleted text messages of most commonly used mobile phones.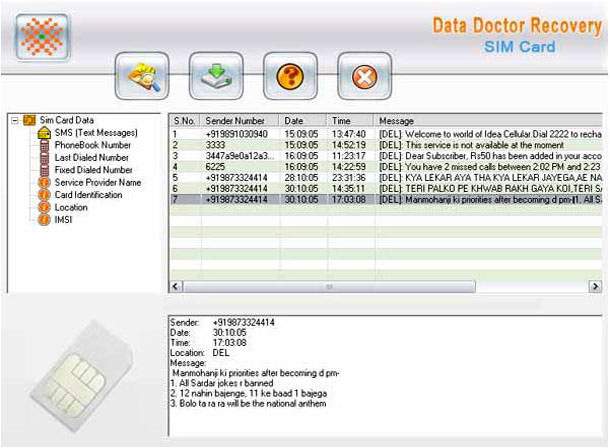 Software features:
SIM card recovery software is read only and non destructive utility.
Software easily operates on Windows 7, VISTA, XP, 2000, NT, ME, 98.
Software fetches the data that is accidentally erased.
Software examines the content stored in your SIM card like text message, numbers for the safe recovery.
Restore SMS messages that are not readable (due to deletion) in your mobile phone.
Important!!!
Please remember that you need USB SIM Card reader (any PC/SC Standards or Phoenix Standards based Reader) to use our software to recover data from sim card. If you are not able to find any compatible SIM card reader, Please feel free to contact us to get the information of manufacturers, who can make it available to you in very short time.