Live Chat Software
Live Chat Software enables web based proactive online chat interaction that enables your website company representative to interact with website visitors and online customers in real time for better customer support. Web based chat software helps in increasing your customer satisfaction, reducing shopping cart abandonment by allowing you to contact your customers while they are navigating your web site by initiating live chat sessions with them.
Online customer service strategy plays an important role in your businesses like Travel, Education, Web hosting, Web design, Auto sales, Insurance, Real estates etc. Software increase online conversions and customer acquisitions with real-time assistance.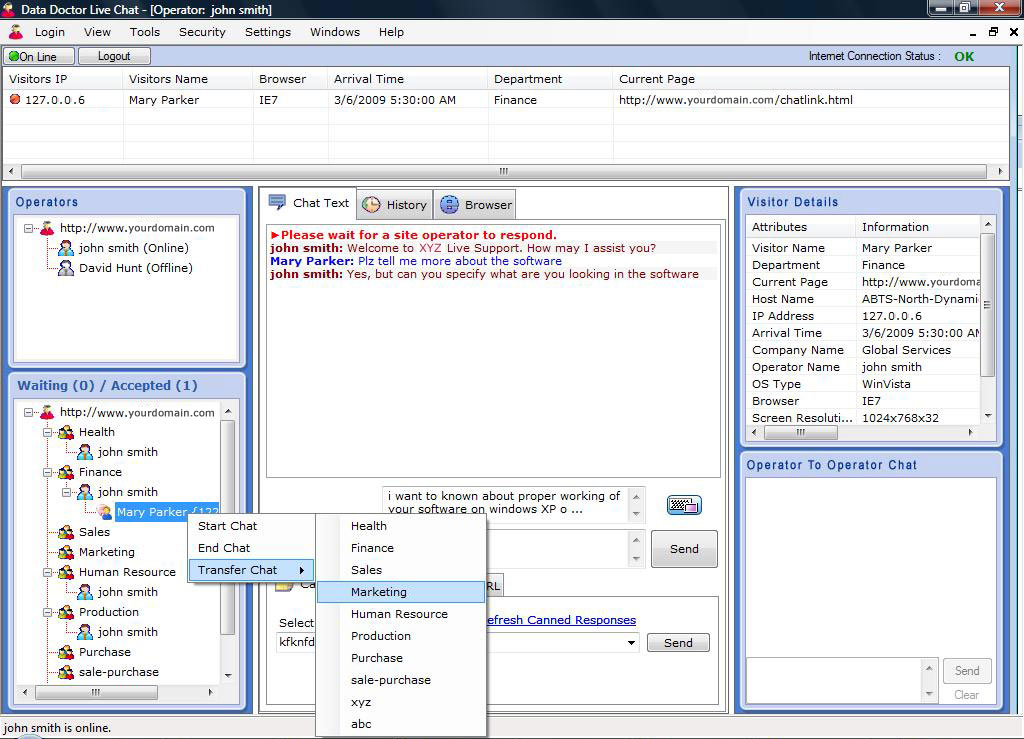 Software Working Features:
Online Live Chat
Program designed to help customers and visitors for real time chat interaction.
Address Multiple Visitors Simultaneously
Facilitates Multi operator to Multi customer chat interaction in real time.
Preview Visitor Typing Notification
Lets Operator see what the visitor is typing before he/she sends it.
View Chat Records
Enables you to view the chat record with the details like chat time, date along with visitor's detailed information and full text chat.
Email Chat Transcripts
Facilitates to send the complete detail of Live chat session to visitors at desired email id.
Operator-to-Operator Chat Transfer Facility
Operator can chat with other operator to handle complex queries during ongoing chat session.
Visitor Tracking
Helps to track Who What and Where of each visitor. Operator can easily view the IP address and host name of each website visitor along with Visitor name, Company name, Current page and other detailed information.
Backup and Restore Chat History
Facilitates to backup and restore chat history details.
Push Website URLs
Supports live chat agents to easily push website URLs during chat session to assist users quickly.
Canned Messages
When Operator wants to respond website visitors immediately, they can use canned (already saved) messages.
Block IP Address
Operator can block selected IP address to avoid chatting interruptions from mischievous visitor.
Offline Messaging Support
Allows website visitor to send offline messages when the operator is not available online or out of service.
Software General Features:
No technical expertise required to learn software functionality.
No installation and maintenance issues i.e. just buy once and own it.
No setup fees, no monthly charges.
No license renewals and no hidden cost involved with the software.
Reasonable price & high quality software.